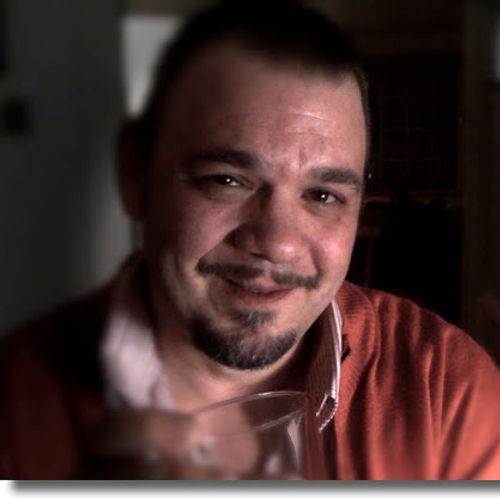 Biography
What's in a name, anyway?
Dutch Falconi is a stage name, and a pretty ridiculous one at that. I led The Dutch Falconi Orchestra, a 27-piece swing big band. We performed constantly for a decade, made and sold records and toured. We were a real part of the 1990's West-coast swing revival scene. Our last CD release, Crime Boss Hootenanny (1999) is enough to convict on all counts: we were musical, fun, vulgar and theatrical. We were awesome.
DFO was my passion and as a result my stage name continues to follow me twenty years after I stopped performing. Most folks know me as Dutch: my friends, my mom, my wife. I am Dutch Falconi.
These days I consider myself a composer, producer and reluctant multi-instrumentalist. My densely layered compositions often feature unique instrumentation & song structures and are always inspired by my eclectic interests. My early 2021 album Bloom & Brimstone marked my return to music after a twenty year hiatus and it highlights my cimbalom, bandonéon and string playing, arrangements and original compositions.
Lately, I prefer doing everything myself, so by relying on the magic of multi-track recording and sequencing, I write, perform and produce from my home in Northern California where I self publish my music as Dark Tent Music (ASCAP) and release through my ultra-Indie vanity label, Aurore Records. My newest album Night In The Secret Garden is my attempt at using solo piano to cleave away some open magical space from the ceaselessness of modern life.  Budapest Undead is my recent orchestral horror score and Curious Fabrications is my album of film noir inspired big band jazz & Latin numbers.
Off the stage and away from the mix console, I've spent my life being a creative professional and have made my living making things and teaching others how to do the same. I've been consumed by painting, drawing, design, sculpture, and animation but I always return to music. It is an infinite laboratory that offers few constraints in its capacity to enchant, entertain and elevate.
I hope you enjoy my music and find a place for it in your life.
-Dutch